It's easy to sing the praises of a gloriously sunny, south-facing garden. Just like the plants we grow, many of us love to soak up the sun! It's tempting to think that beautiful plants only grow in sunny gardens – but there are lots of wonderful plants for shady gardens too. If your plot is north-facing, heavily wooded, overlooked by buildings or just on the smaller side, don't see this as a problem. It's actually an opportunity to grow some really lovely, unusual plants.
Most gardens will have some level of shade, and it's important to select your plants carefully based on the type of shade that is present. What kind of shade do you have in your garden? You may have a combination of types and each type of shade will have specific plants that will happily grow here. It's also worth considering the terrain – is it dry or moist? In this article you'll learn about different types of shade and I'll share my top plants for shady gardens.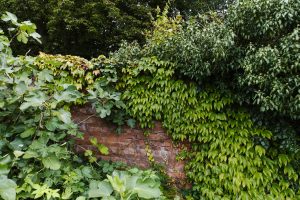 Deep or heavy shade tends to be colder and dry, for example in the shadow of your house, on the north side of a wall or under large evergreens.
Dappled shade is most commonly found in the shadow of deciduous trees. When the tree is in leaf in the summer, there will be a lovely speckling of shade on the ground. As the leaves start to fall, more sun will be able to access the plants below.
Partial shade exists in most gardens, as there will be areas that are shaded at different times of the day as the sun moves across the sky.
Flowering annuals like nasturtiums, bizzie Lizzie, forget-me-nots and pansies are really happy in most types of shade, so you can just plant them out and enjoy their bright blooms.
Plants for partial shade
Aquilegia is a beautiful, coloured flower that brings a lovely cottage garden feel to your plot. Hardy cyclamen, or Cyclamen cour, has beautiful dark green leaves with silver striations and dainty red, white or pink blooms from late winter – perfect for a splash of colour in the colder months. The English ivy Hedera Helix has a great trailing growth habit, reminiscent of the forest floor, and will happily grow in full or partial shade.
Plants for dappled shade
Native foxglove, Digitalis purpurea, is a stunning plant with tall stems of nodding blooms in different shades. As it's a woodland plant, it will happily thrive in dappled or partial shade and bring real drama to your garden. Just watch out if you're a pet owner, as foxgloves are highly toxic. The unusual heart-shaped blooms and wandering stems of Dicentra spectabilis or 'bleeding heart' is happy in dappled shade too and is a real joy to behold.
Plants for deep shade
Hostas are great plants for shady gardens, particularly white-rimmed varieties like El Nino Green which will shine out in the darkness!
Snowdrops are a real joy to behold in the winter, with their tiny white flowers nodding away in the darker months. They're also really happy to grow in full shade. Snowdrops will come back year after year, making them a great addition for year-round colour and interest. A special mention for deep shade has to go to Iris foetidissima or 'stinking iris'. This is a delicate and unassuming Iris that some say does have a faint odour to it. The stinking iris comes into its own in the autumn and winter when its blooms give way to bright orange, pendulous berries.
Plants for damp shade
Ferns are a great choice for damp, shaded spots. Think woodland terrain by a flowing river, or a shady pond edge. I love ferns for their dramatic, prehistoric look – they really bring a forest feel to a garden.
Great ferns to choose from for your damp, shaded spot include the Himalayan Maidenhair fern with its beautiful small, fan-shaped leaves, and Hart's Tongue fern, with its bold, curling, bright green foliage. Japanese Shield fern is a beautiful and unusual choice with its autumnal copper colours.
I hope you're inspired to make the most of your shady outdoor space! Happy planting!
Katie x