As a passionate gardener as well as an avid dog lover, I'm always keen to make sure I use pet-safe plants in my own garden and my clients' too. I'm well aware of the mischief our pets can get up to when unsupervised – most of the time it's (hopefully) relatively harmless – a chewed slipper, or upended bin. But where plants are concerned, the results of getting too inquisitive can be much more serious.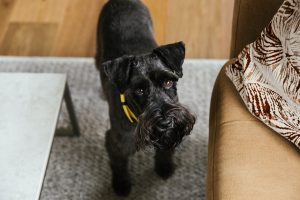 Some garden favourites that we might plant out without a second thought can actually be toxic to cats and dogs. It's really important to do your research when choosing new plants and getting a new pet. In this article, I'll let you know some of my favourite pet-safe plants for cats and dogs.
As pet owners, we want to do all we possibly can to make sure our furry friends are safe and well. The best course of action is to keep a good eye on your pet when they're out in the garden, particularly if they're a new addition or inquisitive younger animal. Supervision will not only reduce the likelihood of them soiling your seedlings or digging up a treasured shrub – it will also keep them safe. If your pet ever starts to show signs of illness such as drooling, vomiting or seeming lethargic, always call your vet.
Top pet-safe plants for your garden
Please note that this isn't an exhaustive list, so do check when you're planning your plant purchases.
Roses
Roses are one of my absolute favourites, as you'll know if you read my recent article on flowers for summer colour. With regular deadheading, pruning and feeding you'll be rewarded with beautiful blooms year after year.
Safe for: All varieties of rose are safe for both cats and dogs.
Lavender
Lavender is a lovely, structural plant with fragrant purple blooms that give off a waft of heady fragrance when brushed against. It's really easy to care for and will grow vigorously with very little maintenance.
Safe for: Cats and dogs. Note, lavender plants are fine for your pet, but lavender oil can be toxic – so keep them away from your essential oils!
Asters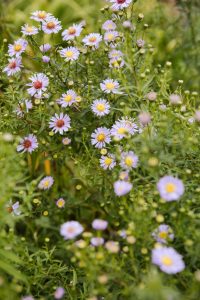 Asters are an easy-care perennial with beautiful purple daisy-like flowers in summer. They benefit from cutting back after flowering so that they can grow nice and vigorously next year.
Safe for: Cats and dogs
Bamboo
Ornamental bamboo is a popular choice for smaller gardens, in particular – I love how it looks planted in a large pot, willowy stems standing tall and delicate foliage blowing in the breeze. Bamboo is great for screening off areas of your garden that you'd like to make more private, too.
Safe for: Cats and dogs – although your dog might be attracted to the long stems, which are great for chewing!
Snapdragons
Snapdragons (Antirrhinum) are a great structural addition to any garden, with tall spires of ornate, brightly-coloured flowers. They're also great for bees, who are one of the few insects up to the task of opening the blooms!
Safe for: Cats and dogs
Cat grass
Cat grass isn't up to that much aesthetically – it just looks like, well, grass. But if you've got a cat or dog who loves to chew and nibble, cat grass is a great addition to your garden. Your pet can nibble away happily risk-free, and it may even assist with digestion.
Safe for: Cats and dogs
Sunflowers
Sunflowers are another favourite of mine for the sheer joy and drama they can bring to even the smallest yard. They're really easy to grow from seed so are fun for children, and the best bit? They're non-toxic for pets.
Safe for: Cats and dogs
If you're planning a garden redesign, I'd love to help you. You can book a 30-minute virtual Zoom garden consultation here, and we'll talk through ideas for design, plant choices and pet-safe plants, if needed. Happy gardening! Katie x