As we near the summer months each year, I start to plan what my summer garden will look like and get excited about choosing new and colourful plants for my scheme. However, year after year there are some wonderful 'old faithful' flowers that return again and again to bring plenty of colour and drama. In this article, I'll share with you my top flowers for summer colour.
If you're new to colourful planting in your garden, don't be put off. There are some simple 'colour theory' tips that you can follow for an attractive and complementary scheme. Get some tips on using colour in your garden design here.
Roses
Roses are a classic addition to any garden and bring beautiful, glossy greenery and gorgeous summer flowers. The more scented the better – I love sticking my nose in them! There are lots of varieties well-known for their heady fragrance, that will bring a gentle waft of rose scent to your summer days and evenings in the garden. They're relatively easy to care for, and most types produce an abundance of flowers that you can even cut and place in a vase inside your home.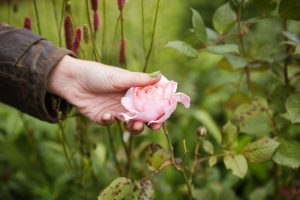 There's a rose for every type of garden including shrub roses, which will grow large and bushy so are great in beds or for hedging. Patio roses are perfect for container planting and smaller gardens, and climbing roses look wonderful growing along a fence or up a trellis to attract the eye skywards.
Roses like well-drained, rich soil and full sun, but there are types available that will be happy in partial sun too. They're a hungry lot, so will benefit from annual mulching and regular feedings with specialised rose feed to promote more of those lovely blooms. When your rose is in flower, keep on top of deadheading spent blooms so that the plant can redirect resources to creating more flowers.
Hardy geraniums
Hardy geraniums, or 'true' geraniums, are a brilliantly colourful and hard-working choice of flower for your summer garden. They are long-flowering, which means they'll be in bloom from spring right the way through to late summer – how's that for good value?!
Once again there are lots of different types to choose from, from small alpine varieties to striking larger ones that are perfect as bedding plants. They're not particularly fussy about soil type and will flower and flower again, often self-seeding and spreading across your garden all by themselves. Bees and other pollinators love hardy geraniums as they're a great source of nectar all summer long.
Salvias
Salvias are a great choice for a summer garden and are well-loved by me for their tall, elegant stems and brightly coloured, delicate blooms. Perennial and annual varieties are available, and the foliage is often scented when handled – did you know that sage, the popular kitchen herb is a type of salvia?
There are loads of different types and colours of salvia to choose from, but my favourite is purple. This colour looks really rich and vibrant growing in strong vertical spires – great for adding structure to a summer bed or border.
Salvias thrive in well-drained soil and full sun, so a south-facing garden is ideal – but they're not terribly fussy. Just make sure to keep cutting back spent blooms in order to keep those beautiful new flowers coming throughout the summer months.
Dahlias
Dahlias are just stunning! These dramatic plants boast truly glorious, complex blooms that come in virtually every colour of the rainbow. Dahlias tend to bloom later in the summer, and the tubers can be dug up for overwintering and planting out again the next year – so they're a really good investment whatever your planting scheme.
There are compact pot varieties available which are great for container planting, and the enormous Dahlia imperialis can grow as large as five metres tall! There really is something for everyone in the world of dahlias. They prefer a rich, well-drained soil and plenty of sun, and larger varieties may need staking to support those enormous, proud blooms.
I have to say, there aren't many flowers I don't like – but these are just some of my favourites. I hope I've given you a few ideas. Happy gardening!
If you're keen to get ideas flowing for your garden, but you're feeling a little lacking in inspiration, I'd love to help you. You can book a 30-minute Zoom garden consultation with me by clicking here.